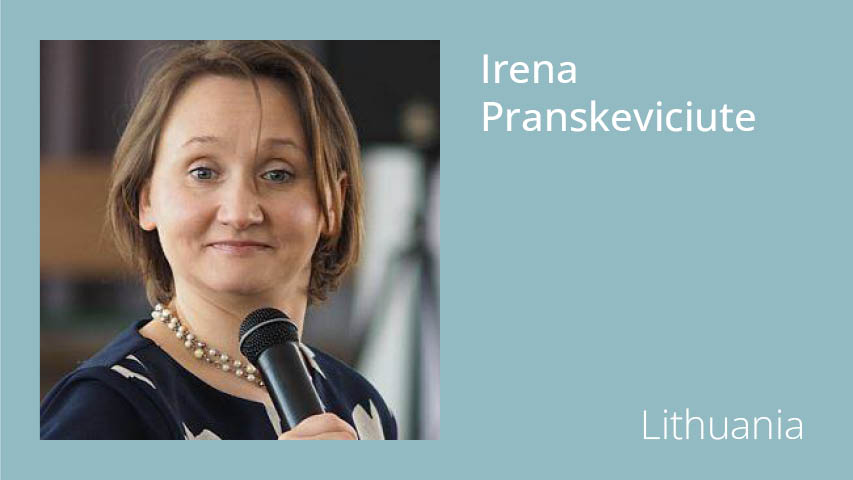 European Bildung Day local organizer
Irena will welcome us to Vilnius in the opening session.
She has found some amazing speakers for us and some wonderful venues.
Irena Pranskeviciute
Irena Blaževičė is a co-founder of Gravitas Schola (Lithuania), the school and community for war refugees, challenging the mainstream policies. Irena is a Ph.D. and researcher in community resilience to shocks, a facilitator for nationwide system transformations; a leadership coach, helping organizations implement TEAL approach. Irena supported the development of more than 40 schools into learning communities and consulted state institutions on education system development.
---
Speakers alphabetically by first name
---
Talking about European Identity without Falling into Unhelpful Identity Politics
More info on its way…
Ginie Servant-Miklos
Ginie Servant-Miklos is a Senior Lecturer in the Humanities Department of Erasmus University College in Rotterdam, the Netherlands. She is currently writing a book about how her Experimental Pedagogics can be used to address the climate crisis: Pedagogies of Collapse.
---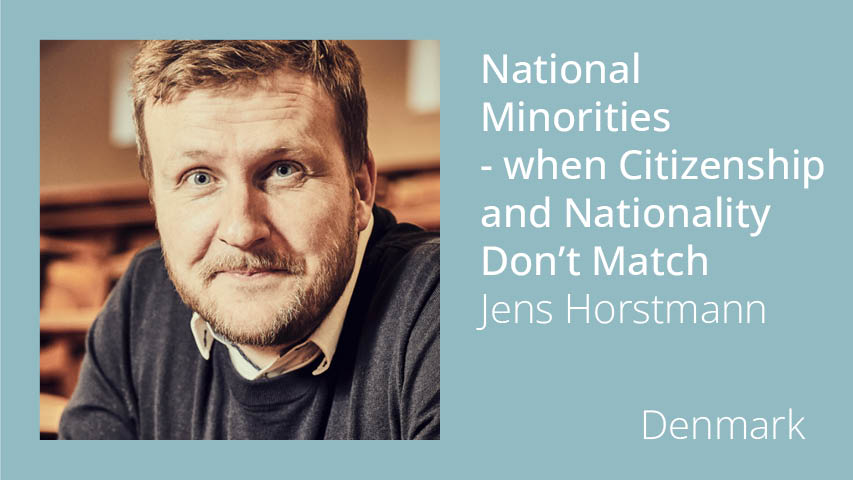 National Minorities – when citizenship and nationality don't match
There are an estimated 100 million Europeans labeled "national minorities" – people living in European countries identifying as another nationality than their citizenship. They have always been there, yet most Europeans are unaware of their existence except when political disagreement and conflict follow in their wake.
Who and where are these people, and what can Europe learn from their generational-long experience living with multiple cultures and languages as part of their daily lives?
Jens Horstmann
Jens Horstmann (LL.M.) currently works as project lead for the "Minority Changemaker Programme", a Danish/German folk high school project at Jaruplund Højskole in Flensburg. He has worked 15 years in the Danish folk high schools, first as a teacher and later principal. He has been on the board of the Danish Folk High School Association, been a visiting scholar in the US, and contributed to debates and books on the pedagogical practise in the folk high schools.
---
Bildung in your Educational Organization
More info on its way…
Kees Spijker
Kees Spijker is a linguist and has held the office of director of The New School for Information Services in Amsterdam (www.thenewschool.nl). The New School was the first in the Netherlands to be awarded the distinctive feature Bildung by the Dutch Ministry of Education as a special element in the 2019 re-accreditation.
Dylan Vianen
Dylan Vianen is a philosopher and one of the founders of The Bildung Academy.
As a member of the executive board, he is responsible for the academy's collaborations within the educational sector. In this role, he works on the realisation of Bildung education within various educational institutions across the Netherlands.
---
Women's Safety, Feminism, and European Identity in Belarus
The war in Ukraine is not so much a struggle for new lands (especially considering the territories that Russia now has) as it is a war of civilizations and values. In Europe, those who for centuries have been powerless, voiceless, and forced to do invisible and unpaid work have asserted their rights, hopes and opposition. Whether they are colonized peoples or women as a social class, Europe has realized that it must deal with its past. Not entirely successful, but at least peaceful. Ukraine has chosen the European path towards freedom and equality for all; other former Soviet republics have not. Yet…
A Belarusian perspective on Europe and freedom.
Olga Karatch
I'm the head of the Belarusian human rights organization Our House, which has been active since 2005.
My main fields of activity: Women's and children's rights with a focus on Belarusian and Ukrainian refugees in Lithuania; Relocation of cultural figures under repression from Belarus; Belarusian conscientious objectors and deserters.
My human rights awards:
On December 10, 2022, the Human Rights Award of the City of Weimar (Germany). 2019, International Bremen Peace Award. 2010, Radebeul Courage Prize in Germany. 2007, the Belarusian group of Amnesty International declared me the Human Rights Defender of the Year.
---
An Experience of Collaborative Archaic Singing
Laurita will teach us to sing traditional Lithuanian multipart songs Sutartinės. Suratinės ("sutarti" means to be in accord) is a phenomenon of Lithuanian traditional music interlinking singing, words and movements representing an archaic form of two and three voiced polyphony, usually sung by women. Sutartinės, songs were inscribed on the UNESCO Representative List of the Intangible Cultural Heritage of Humanity in 2010.
Laurita Peleniūtė
Laurita Peleniūtė is a unique Lithuanian singer who is able to present folklore in a modern and attractive way, revealing the heritage code of her ancestors. In her work she combines different folk music and languages. "It doesn't matter which nation we are talking about, they all have the same songs that accompany a person through the stages of his life."
---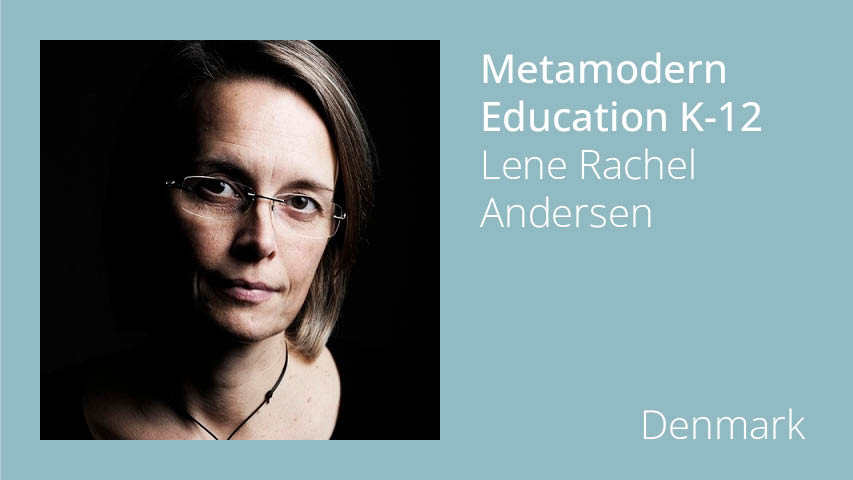 Metamodern Education K-12
How can primary and secondary education allow children to experience a sense of belonging in the human grand chain of being?
Why Bildung? Why Now? Why Europe?
Opening remark adressing the need for bildung in and around Europe in the 21st Century.
Lene Rachel Andersen
Economist, author, futurist, philosopher and bildung activist. After studying business economy for three years, she worked as a substitute teacher before she studied theology. Since 2005, she has written 20 books and received two Danish democracy awards. Among her books are The Nordic Secret (2017), Metamodernity (2019), Bildung (2020), What is Bildung? (2021), and Libertism (2022).
---
An African Perspective on Bildung, Europe, and the Future
Africa is the continent with the youngest population and a neighbour with whom Europe could have a very fruitful and mutually much better relationship. So much opportunity, and bildung could be a path.
Nayombe Muliyunda
Nayombe Muliyunda is an education activist, she has a black belt in Karate and teaches Karate to girls in Zambia.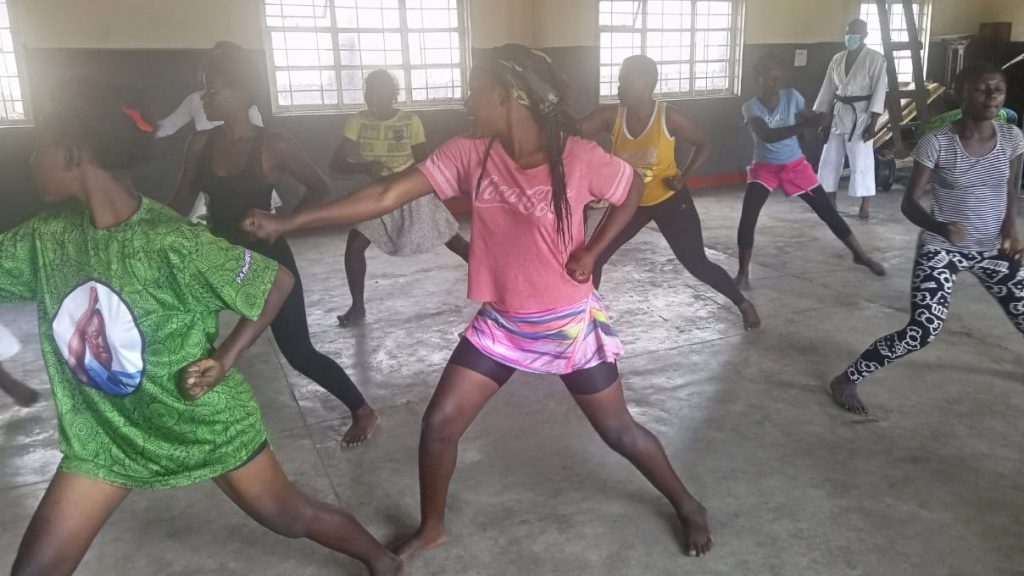 ---
Go to the program page: https://www.globalbildung.net/ebd2023/