The Weaver
I am Ms. Dignity. I am a daughter, mother, wife and grandmother, just like you. I am the Weaver. I am the dreamer who wants, stitch by stitch, to mend the broken cloth that the violence left. I hope my stitches and yours will bring back our Dignity.
Now that I awake from my dream. I want to weave my family through my son. His name is Love and he protects my granddaughter, Esperanza. The are your son and granddaugthter too. This way, I will be able to start repairing my broken family and my country. Some day, with the truth, we will find Peace in our country. I have a lot to weave and I need help. Do you want to help?
---
Bloody Revolution in Portugal?
How much blood does it take for something to be called Bloody? And how much can be spilled for you to consider it bloodless? The Carnation Revolution, in 1974, marked a disruption between a four decade Dictatorship and the advent of Democracy in Portugal. The Revolution caused awe, especially among the foreign press that witnessed, as rarely revolutions are so peaceful. But unlike what is usually said and sustained in the Portuguese collective memory, there was a spill of blood. People died that day and their deaths changed an important part of the Revolution, and of the democratic country that emerged from it. The film 'Blood(less) Revolution', which will debut on the 50th anniversary of the Carnation Revolution, tells their story, through their eyes. And gives you the seat to judge how much blood it takes to be bloodless.
Ana de Silveira Moura
Portugal
Passionate about Sciences, Education, Arts, and Literature, Ana has kept a research and academic publication track, which includes the co-editing of The Handbook of Determining the Reliability of Online Assessment and Distance Learning, while being a published author of speculative fiction, namely in the fields of Alternate History and Science Fiction, under the pen name AMP Rodriguez. As a founding member of 'Invicta Imaginaria', Ana also co-coordinated the first anthology of a new speculative fiction subgenre, the Winepunk, released in February of 2019. As from 2021, Ana added screenwriting to her interest, and is the co-writer of a feature film in production, The Blood(less) Revolution, a project which already was a Winner Film Lab (Feature Gems Pitching Forum) at the FEST- New Directors Films International Film Festival, in 2022.
---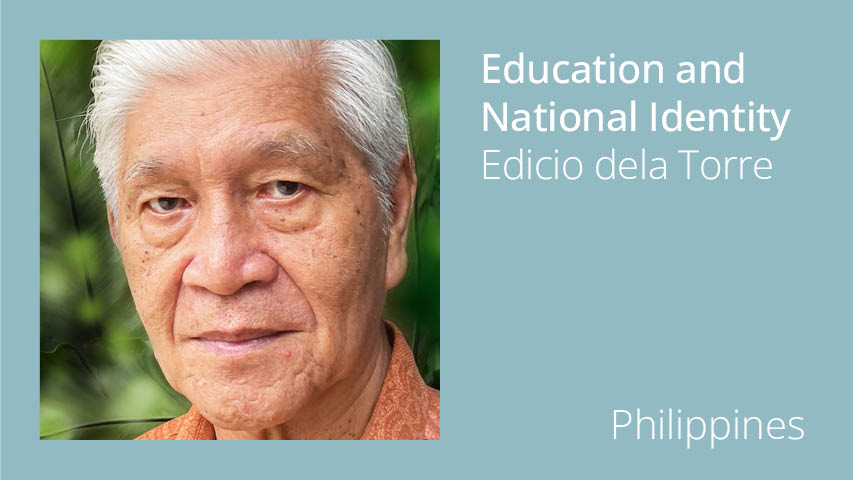 Education and National Identity
As contribution to our global conversation, I want to share our experiences in exploring Gruntvig's ideas about the "national-popular" in the Philippine context, given our history and diversity. In addition, I want to explore Benedict Anderson's idea of the nation as an "imagined community" and the role of popular education and popular democracy.
Edicio dela Torre
Philippines
As a young priest, Edicio dela Torre mobilized fellow church people and students to support the struggle of farmers and urban poor communities in the Philippines. With the imposition of martial law in 1972, he joined the resistance movement, was arrested twice and imprisoned for nine years. With the restoration of formal democracy in 1986, he promoted participatory popular democracy, helping build the capacity of grassroots communities to critically engage government. He briefly served in government as director general of the Technical Education and Skills Development Authority. He is currently involved in grassroots education and sustainable rural development.
---
Restoring the Indigenous Worldview in a Globalizing world
Robert Redfield, a founder of social/cultural anthropology, brought forth the enlightenment concept of "worldview" and offered deeper interpretations. He related it to cultural perceptions of human relationship with nature. He described two essential worldviews: one based on our original, nature-based perspective, and the other on our relatively recent anthropocentric view of the world. Redfield believed that the overshadowing of the Indigenous-based animistic view with current dominant one was the greatest tragedy in human history. This belief prophesies the crises facing the world today. Research suggests that non-binary reflection on the two complementary but out-of-balance worldview precepts is a foundational step toward addressing our global crises.
Four Arrows
United States
Wahinkpe Topa (Four Arrows), also known as Don Trent Jacobs, is of Irish/Cherokee ancestry and a made-relative of the Oglala Lakota Medicine Horse tisopaye. As a Sun Dancer/Pipe Carrier he follows the Lakota spiritual path. With doctoral degrees in Health Psychology and in Curriculum & Instruction (with a cognate in Indigenous Worldview Studies), his many books, chapters, articles, and presentations focus on Indigeneity and the importance of non-binary rebalancing of dominant and Indigenous worldviews for surviving and thriving. Named one of 27 visionaries in education by AERO, a recipient of the Martin Springer Institute's Moral Courage Award, and subject of Dr. Michael Fisher's biography, Fearless Engagement of Four Arrows: The True Story of an Indigenous-based Social Transformer, he lives on the Costalegre where swims, surfs and is trying to create a sanctuary to save the fish.
---
Education to Promote Human Security for All
The global challenges confronting humanity today can only be effectively addressed by a coordinated effort of multilateral institutions, national governments, business, and all sectors of civil society. A global campaign is needed on Human Security for All to generate the necessary momentum for social transformation. A value=based, life-centered, contextual education, transdisciplinary education is essential to generate the awareness, understanding, conviction and commitment to collective action needed while addressing the personal needs and aspirations of each individual.
Garry Jacobs
United States & India
President and CEO of the World Academy of Art & Science (WAAS); Chair & CEO of World University Consortium, and Executive Chairman of HS4A, the global campaign on Human Security for All launched by the UN Trust Fund for Human Security and WAAS. He is an American consultant, author and researcher on business, economy, education, governance, peace and security.
---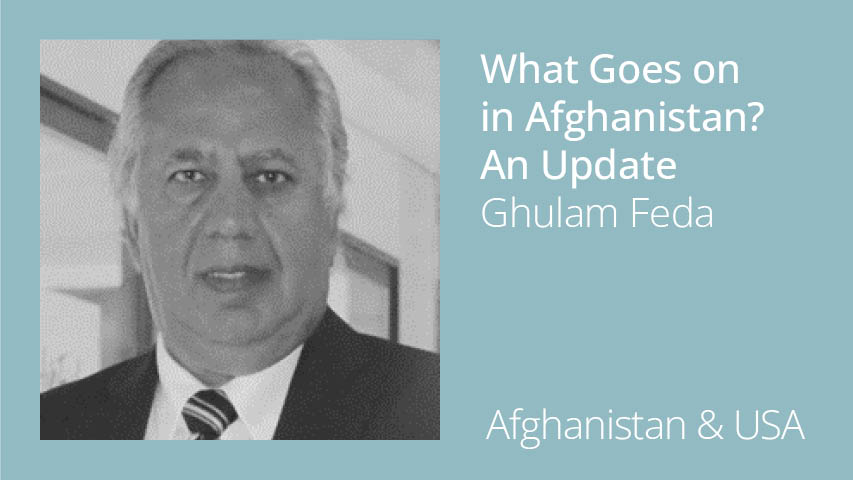 What Goes on in Afghanistan?
An Update
Currently, Afghanistan is facing a critical moment as the United States and its allies withdrew their troops from the country after two decades of war. The Taliban have regained control of country. The majority of international assistance has stopped and the Taliban government has been completely isolated. The Taliban's rule is characterized by strict interpretations of Islamic law and harsh treatment of women and minorities.
Afghanistan has a rich and diverse history, with evidence of human settlements dating back to the Neolithic period. The country's strategic location at the crossroads of Asia has made it an important center of trade and culture throughout history. The country has been invaded and ruled by various empires and dynasties throughout history.
Ghulam Feda
Afghanistan & USA
Ghulam Feda is founder of Afghanistan Relief Alliance (ARA) a nonprofit organization serving humanitarian aid to Afghanistan, and he is co-founder and the president/CEO of Afghan Education for a Better Tomorrow, an organization at the forefront of developing and delivering educational resources to war-torn Afghanistan. He is a graduate of the University of Cincinnati with a master's degree in electrical and computer engineering, Ghulam M Feda has more than 35 years of leadership experience in industrial R&D projects including but not limited to organizational efficiency. He has also served on the advisory boards of several state colleges and universities.
---
Healing a Nation:
The Truth and Reconciliation committee in South Africa
The Truth and Reconciliation Committee provided hope for many South Africans who wanted more information of what really happened in Apartheid South Africa. The nation wanted to know what went wrong that hurt the people, their spirit, their existence so badly. However, this court-like juridical investigation in the midst of anger, frustration and the need for justice, retribution and reparation did not fulfill the the expectations. It did something else, though: It allowed people to tell their stories, which helped the families of the victims to forgive and the country to understand.
Henry Mathya
South Africa
As a practicing minister of Religion I was involved with the identifying of victims of Apartheid from the communities where I served. I also worked on a number of projects which assisted these victims, helping to prepare them for their appearance at the commission.

I studied at the University of the Western Cape to become a Minister of Religion and Teacher in public schools. I specialized in Missionary Studies and Ecumenism, and am currently practicing Public Ministry and are managing a number of projects such as: Spiritual Tourism, Family Home Protector(FHP), Indigenous Knowledge Systems(IKS) and Reconcilliation First SA. (RFSA).
---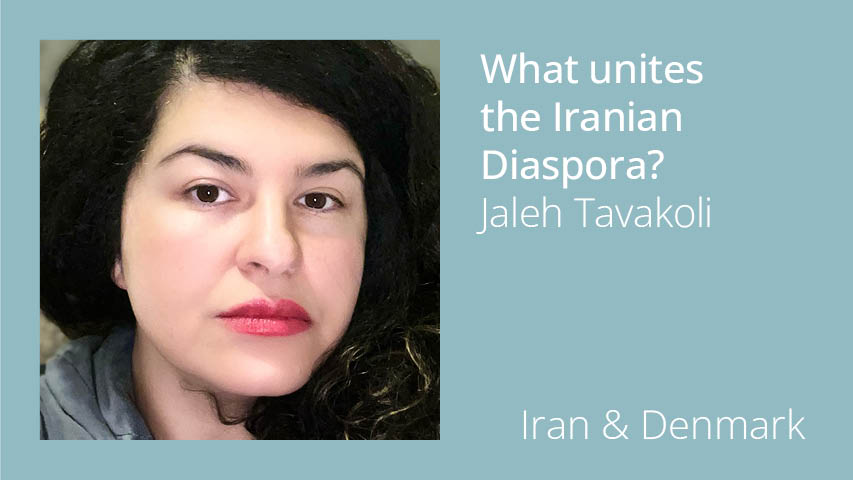 What Unites the Iranian Diaspora?
The Iranian opposition in exile has many difficulties in tolerating each other – but it is also now forgiving, more than ever, and united these days. This time around. Still cooperation and compromises are so difficult for the opposition. The divisions are political, religious, constitutional, but also due to different historical events, mistrust, paranoia and conspiracy theories we have huge problems in the public debate and for the ability to move forward with a interim government that can unite the opposition. Furthermore, Iran has never really experienced democracy, so there are difficultuies understanding how democracy actually works in practice.
Jaleh Tavakoli
Iran & Denmark
I'm an author, political commentator and an activist, who really wants to be a comedian because I want to make people happy. I have a Masters degree from Roskilde University in political sciences.
I was born in 1982 in Tehran, I have always had a deep love-and-hate-relationship with my birth-country. Freedom, human rights, democracy – and especially free speech have become a religion of mine. For any kind of progress and growth we need freedom.
For the sake of humanity we need it.
---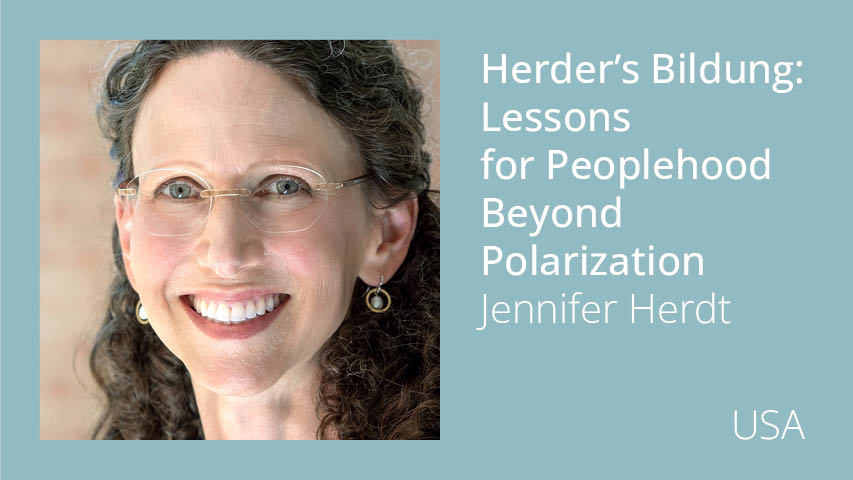 Herder's Bildung: Lessons for Peoplehood Beyond Polarization
The German philosopher, theologian and poet Johann Gottfried Herder (1744–1803) was one of the most influential and creative thinkers involved in forging the neo-humanistic ideal of Bildung. Sometimes regarded as a fountainhead of chauvinistic nationalism, Herder was anything but. Herder's pluralistic, participatory vision of society, and his appreciation for the ways in which individuals and groups can through Bildung be drawn together in organic webs that foster the flourishing of both part and whole, hold important lessons for today.
Jennifer Herdt
USA
Jennifer Herdt is the Gilbert L. Stark Professor of Christian Ethics at the Yale University School of Divinity, U.S.A., and the author, among other books, of Forming Humanity: Redeeming the German Bildung Tradition (University of Chicago Press, 2019). She is former president of the Society of Christian Ethics, member of the editorial board for the Journal of Religious Ethics, Studies in Christian Ethics, and the Journal of Religion. Under the auspices of a grant funded by the Templeton Foundation, she is now pursuing a project on "The Animality of Moral Agency: Theological Anthropology and the Pre-Reflective Elements of Ethical Life."
---
Neighbourocracy
Neighbourocracy is a sociocratic movement. It is where every individual, even the last person in the neighbourhood, has an assertive say and actively participates in daily governance. Everyone is responsible for some issue. This is an alternative system of governance to current democracy where most people do not have regular input or voice, except for periodic voting.
Neighbourocracy consists of three parliamentary units in every neighbourhood based on age, with each working similarly. Children ages of six to fifteen are organised as Children Parliaments; youth sixteen to twenty-five are organised as Youth Parliaments, and adults above age twenty-six form Adult Parliaments. All decision making, planning and implementation are coordinated by all three units. Neighbourocracy is the first system of governance in world history in which even a six year-old child is an active, effective participant in their society's governance.
Joseph Rathinam
India
Joseph Rathinam is Director for the International Coordination and Networking for Neighborocracy. He has spent 27 years promoting the concept of Neighbourhood Parliaments (Neighbourocracy) and organising people at neighbourhood/village levels. Neighborocracy is about networking Neighbourhood Parliaments at village, parish, town/city, district, county and state levels to create highly participative societies. Joseph's movement has advised and helped over 4000 NGOs, 30,000 people's/citizenry assemblies and 63,000 field staff members on how to improve citizenship participation. Over 270 schools, 84 colleges/universities, and 3000 teachers have been trained in organization Student and Youth Parliaments under Joseph's leadership. Nearly 100,000 Children Parliaments and 18,500 Youth Parliaments have been started, worldwide, since Joseph launched his movement. He lives in Chennai, India and works worldwide.
---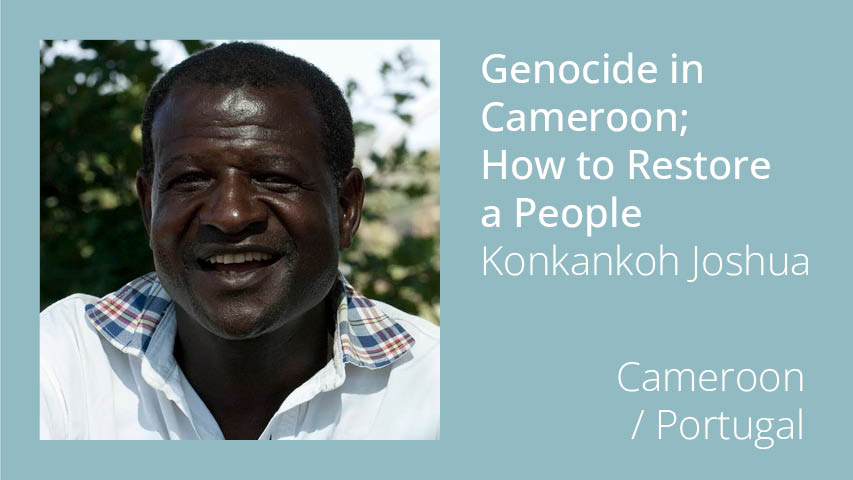 Genocide in Cameroon; How to Restore a People
There has been an unrecognized genocidal war going on in Cameroon since 2016 https://www.nrc.no/news/2019/june/cameroon-tops-list-of-most-neglected-crises/ I come from Bafut kingdom in Ambazonia, an unrecognized nation of the UN Trust Territories wrongfully attached to France. Since 2016 my people have been going through this genocidal war of subjugation waged by French Cameroun and the international community is very quiet about it, the Bafut people are living beyond the poverty level. The Better World Team in Portugal and myself have remodeled and adapted our programs and projects as a garden of hope to continue to carry out youth development, children's education, and women empowerment despite the war.
Konkankoh Joshua
Cameroon & Portugal
I am a social entrepreneur from Cameroon, the founder of Bafut Ecovillage living in exile in Portugal. In Europe, I have founded an educational model of a regenerative business based on south-north partnerships through which I bring my gifts to the world and build investors' confidence in African Way project opportunities www.africanway.world
I am advocating for goodwill organizations and individual volunteers to take an action by contributing to the reconstruction of the Bafut Permaculture Ecovillage www.betterworld-cameroon.com
---
We Koreans Are One People, Not Two
Throughout our long history, we have been blessed with cultural, linguistic and ethnic unity, and a beautiful land, rich in resources and productive agricultural areas, which for millennia have been sufficient to support its population. We have never posed a threat to our powerful neighbors: China, Russia or Japan. But our key strategic position bridging Asia and the Pacific made these oft-aggressive powers anxious to dominate the peninsula.
For thirteen centuries before 1945, neither the land nor the people of Korea had ever been divided. Therein lies both the tragedy of division and the hope that it can be overcome. People so bound together over millennia can neither easily forget their common ancestry, history, tradition, language and culture, nor readily accept the division of their nation and land.
Park, Kyung-seo
Korea
Park, Kyungseo is the retired Professor in Sociology, he has started teaching at Seoul National University, from 1976 until he was dismissed, by the military regime in 1982 and he was nominated by Geneva based World Council of Churches in February 1982 as Asia Secretary, during those days he has coordinated Humanitarian Aid to North Korea 43 million $ equivalent to overcome poverty visited 38 times to North Korea. Returning to Seoul Korea, he was nominated by President Kim Dae-Jung as Ambassador at large for Human Rights as well as Senior Standing Commissioner National Human Rights Commission. Until 2020 he has served as President, Korean Red Cross Society and conducted Family Reunion Program with 1.000 family members. He was elected as Bord member, IFRC from 2017 in Turkey General Assembly, till he has retired in 2020.
---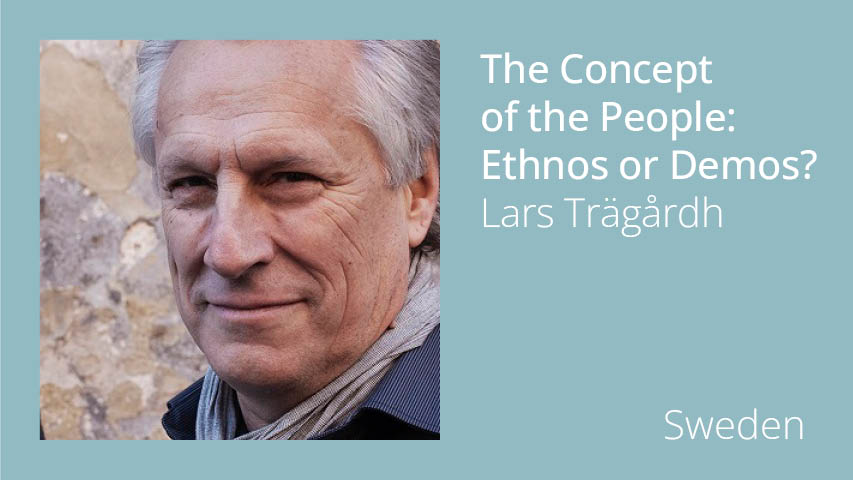 The Concept of the People: Ethnos or Demos?
Nationalism is often linked to the idea of the nation as an ethnic community. However, for philosophers like Rousseau and his followers in the era of the French Revolution, the concept of the people primarily evoked a rejection of the old regime and an embrace modern democracy. The concept of the people was linked to people as demos and a vision of liberté, égalité, fraternité, This ideal, linking individual freedom, social equality, and national community, in fact stood in sharp contrast to the notion of people as ethnos, most famously promoted by German Nazis.
Lars Trägårdh
Sweden
Professor Lars Trägårdh is a Swedish historian, educated in the United States with a Ph.D. from the University of California, Berkeley. He wrote his dissertation on the concept of the people in Germany (Volk) and Sweden (folk), leading to a form of democratic nationalism and the welfare state in Sweden, and Nazi dictatorship and the Holocaust in Germany. Currently he leads a major project on trust at Uppsala University. His most recent book, co-authored with fellow historian Henrik Berggren, is The Swedish Theory of Love: Individualism and Social Trust in Modern Sweden (University of Washington Press, 2022).
---
We Need Nations and Love of Country, but not National Chauvinism
Toxic nationalism or national chauvinism have given the love of nation a bad reputation. We need accountable and democratic societal organization at the state level, and that requires a people who cares about their country. When nationalism is presented as something bad, a lot of people hear it as if they are not supposed to love their country. So if we need to love our country for the country to thrive, but we cannot love it in a toxic or chauvinistic way, what can we do?
Lene Rachel Andersen
Denmark
Economist, author, futurist, philosopher and bildung activist. After studying business economy for three years, she worked as a substitute teacher before she studied theology. Since 2005, she has written 20 books and received two Danish democracy awards. Among her books are The Nordic Secret (2017), Metamodernity (2019), Bildung (2020), What is Bildung? (2021), and Libertism (2022).
---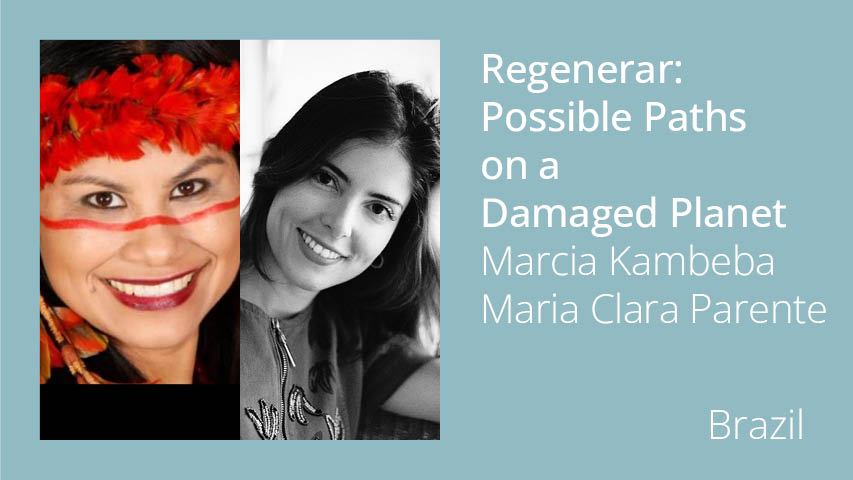 Regenerar: Possible Paths on a Damaged Planet
Marcia Kambeba
Brazil
Márcia is Master in Geography, poet, writer, activist for the indigenous and environmental cause. PhD student in Linguistic Studies, indigenous music composer, and currently General Ombudsman of Belém PA.
She is an educator and author of the books Ay Kakyri Tama [I live in the city] (2018, Ed. Jandaíra), Saberes da Floresta (2020, Ed. Jandaíra) and Kumiça Jenó: Narrativas Poéticas dos Seres da Floresta (2021, Ed. Underline Publishing LLC).
Maria Clara Parente
Brazil
Maria Clara Parente is an artist, writer and documentary filmmaker born in Rio de Janeiro. She co-directed the documentary series What is Emerging? (2019), which won the Best Screenplay award at the Rio Web Fest and screened at the Bilbao International Digital Festival and Die Seriale. She recently directed her first feature film: Regenerar: Possible Paths on a Damaged Planet(2022) that was premiered in Rio de Janeiro Internacional Film Festival 2022. https://www.youtube.com/watch?v=ipTk-h5uqR0
---
Achieving skä·noñh
– a state of peace and well-being
Mr. Martin will be sharing perspectives from the Haudenosaunee (People of the Longhouse), which is a Confederacy of Six Nations – the Seneca, Cayuga, Onondaga, Oneida, Mohawk, and Tuscarora – formed under the Great Law of Peace. Their government pre-exists both the US and Canada, and they maintain a high degree of sovereignty including Nation-to-Nation relationships. He will provide an overview of the traditional teachings of a Good Mind. It is something that is intended to positively affect our thoughts, attitudes, actions, and behaviors. It is a way of living, a way of being – a discipline. It is a personal and collective power for achieving skä·noñh – a state of peace and well-being.
Michael Martin
Haudenosaunee, USA
Michael Martin is an Onondaga of the Beaver Clan from the Six Nations of the Grand River territory in Southern Ontario, but was born and raised in Buffalo, New York. After a corporate career and starting his own consulting and coaching business, he returned to his community and in 2004, was named the Executive Director of Native American Community Services of Erie and Niagara Counties, Inc. (NACS). In 2016, he was named by his Clan Mother as a Faithkeeper for his Onondaga, Beaver Clan. He was formally acknowledged with his Chief by the Haudenosaunee Confederacy condolence in June of 2018.
---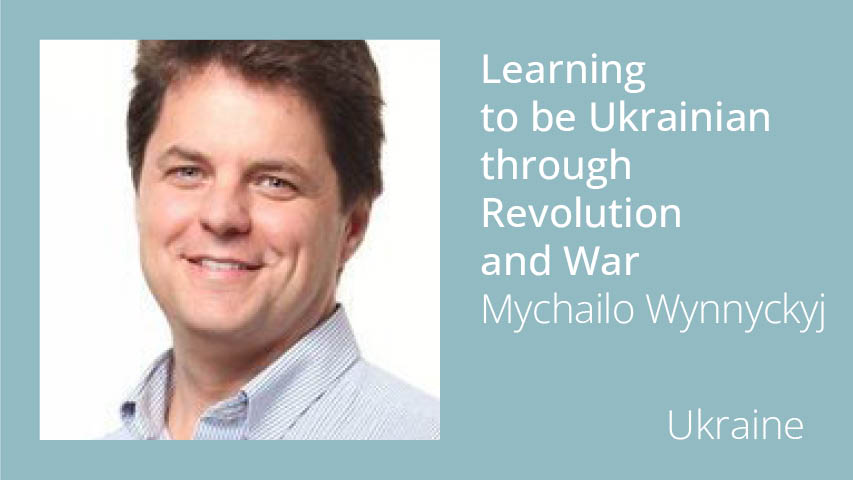 Learning to be Ukrainian through Revolution and WAr
In 2022 Ukrainians surprised the world with their resilience to Russian aggression. Supposedly, this "artificial country" (so said Putin) was not meant to survive, nor its population to resist. But we did! Why?
The roots of Ukraine's patriotic identity and the foundations for society's strong volunteer networks were forged through grassroots activism: three revolutions (1990, 2004, 2013-14) each time leading to significant changes in the country's political direction. These learning episodes not only defined the trajectory of Ukraine's development, they taught Ukrainians to organize, to volunteer, to coalesce around a unique patriotic identity. These skills proved invaluable when Russia finally launched its full-scale invasion.
Mychailo Wynnyckyj
Ukraine
Mychailo Wynnyckyj, is Associate Professor at the National University "Kyiv-Mohyla Academy" (Sociology Dep't and Business School). His courses reflect a keen research interest in economic and political sociology, as they pertain to Ukraine's macro-social and organizational development (entrepreneurship, elites, heterarchic structures, agency). Originally from Canada, Mychailo has lived permanently in Kyiv for over two decades. His book "Ukraine's Maidan, Russia's War: A Chronicle and Analysis of the Revolution of Dignity" was published in 2019 by Ibidem Verlag.
---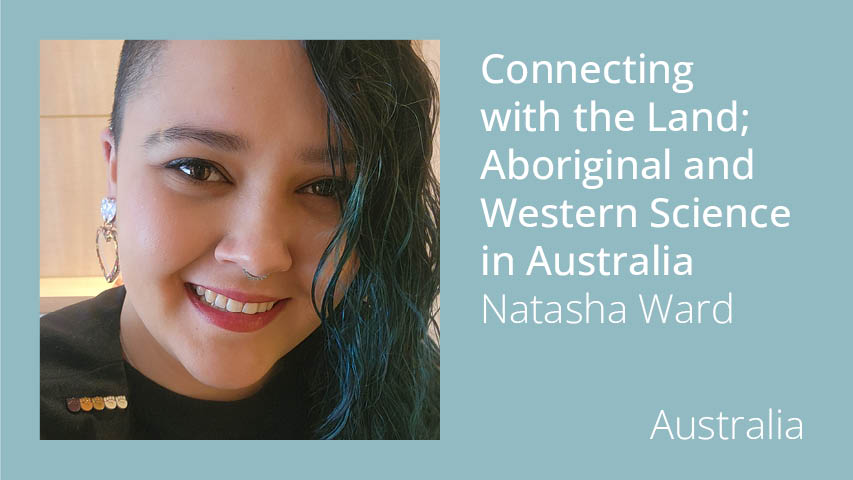 Connecting with the Land: Aboriginal and Western Science in Australia
More info on its way…
Natasha Ward
Australia
More info on its way…
---
Israeli-Palestinian Shared Life and Education for Sustainable Futures
Israel has no borders: neither geographic nor of identity. It was established by the Zionist movement – returning of the Jews to their homeland and safeguarding a refuge for them from centuries of persecutions – but with a horrible price for the native Palestinians who suffered a Nakba: a collective disaster that caused handreds of thousands to become refugees in neighbouring countries and transforming the rest into a national minority in Israel. The two national communities coexist – but equity, integration, and respect for the cultural narrative of the other are yet far from a living reality.
In recent years things have degenerated into political extremism and religious fundamentalism, on both sides, almost eradicating hopes for peaceful coexistence and a sustainable future. The only hope, as I see it, is to advance a cultural-educational agenda of humanist outlook and education, inspired by the Nordic bildung, which proved itself pragmatically as the best strategy for establishing quality of life and sustainable future for all.
Nimrod Aloni
Israel
Prof. Nimrod Aloni is an educational philosopher who teaches at Kibbutzim College of Education, Tel Aviv, Israel. Throughout the years he has taught as a visiting scholar at Teachers College – Columbia University (NY), Concordia University (Montreal), Wagner College (NY), Montclair state university (NJ), and the University of Humanistic Studies (Utrecht). He has published ten books and many articles mainly on humanistic education, activist pedagogy and on Ecohumanism and the challenges of repairing the world.
At Kibbutzim College of Education, he heads "The Institute for Progressive Education" and holds "The UNESCO Chair in Humanistic Education. In 2004 he was awarded "Knight of Quality Government"by the Movement for Quality Government in Israel. In 2021 he was awarded the Distinguished Alumni Award from Teachers College – Columbia University and in 2022 he was awarded the Israel Rotary Ethics Prize for his contribution to the theory and practice of education.
---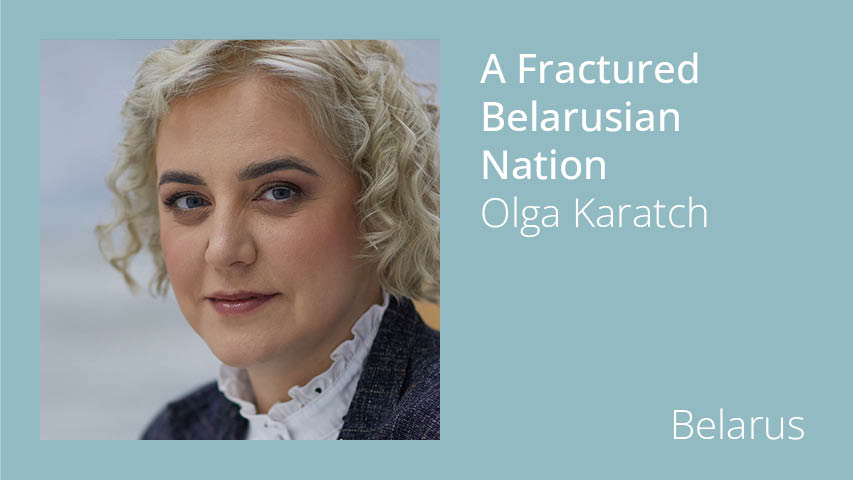 A Fractured Belarusian Nation
Two different Belaruses coexist today. One is characterized by a strongly pronounced Russian-world ideology, with approval of murder and brutal violence in the spirit of the Soviet Union; the other Belarus shares European values and demonstrates a desire for peace. Two such different Belarus cannot exist within the same country. In 2020, this led to the most massive protests in the history of Belarus. Three opposition groups backed the only registered opposition presidential candidate, Svetlana Tikahanovskaya, but eventually, Russian troops arrived in Belarus and kept Lukashenko in power. The question is: what will happen in Belarus after the war in Ukraine?
Olga Karatch
Belarus
I'm the head of the Belarusian human rights organization Our House, which has been active since 2005. My main fields of activity: Women's and children's rightswith a focus on Belarusian and Ukrainian refugees in Lithuania; Relocation of cultural figures under repression from Belarus; Belarusian conscientious objectors and deserters.
My human rights awards:
On December 10, 2022, the Human Rights Award of the City of Weimar (Germany). 2019, International Bremen Peace Award. 2010, Radebeul Courage Prize in Germany. 2007, the Belarusian group of Amnesty International declared me the Human Rights Defender of the Year.
---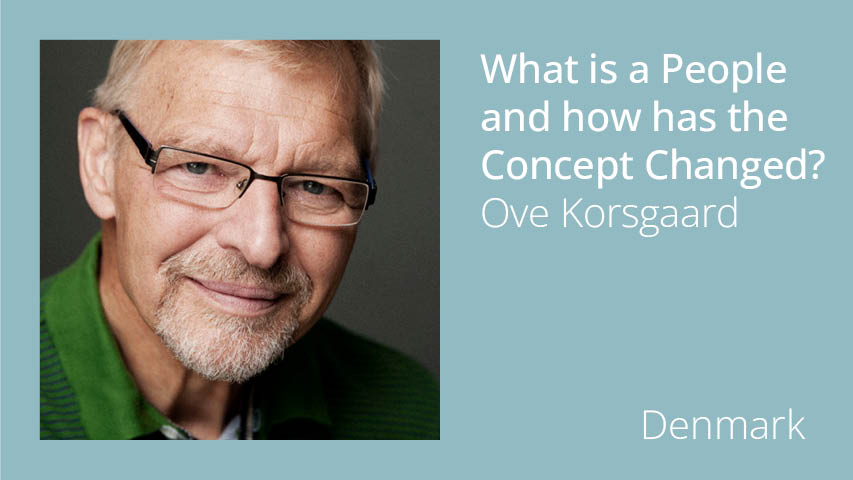 What is a People and how has the Concept Changed?
People is one of the most complex and conflicting concepts of the language. It is complex because it contains many different meanings, and conflicting, because the word evokes widely different associations, in some very positive, in others extremely negative. The ambition is to focus on the complex question: What and who constitutes a people? And I will do this by focusing on the transformation of the concept of people from being primarily associated with household and lineage to being linked to nation and democracy.
Ove Korsgaard
Denmark
Ove Korsgaard (b.1942), PhD, dr. Ped., Professor Emeritus, DPU, University of Aarhus. Has been working with the history of sports, the history of adult education, and the history of the concept people, published in the "struggle trilogy:" The Struggle for the Body, 1982; The Struggle for Light, 1997; The Struggle for the People, 2004. Ove Korsgaard has edited and contributed to The History of Educational Ideas, 2017, and he has contributed to the Grundtvig research with several articles and books. Grundtvig Around. A Guide from 2019. His latest book is Body Culture. Sports, Religion and Ashes from Ancient to Present, 2022.
---
Planting indigenous processes in the school soil
The Xakriabá and Pataxó peoples who live in Brazil´s Southeast and Northeast regions have suffered 500 years of colonization since the Portuguese first arrived. They have fought for survival of their communities and their cultures for centuries, and since the end of the 20th century they have fought for "repossession of culture" .This process has a lot of layers. It came from the repossession/retaking of the lands (which had been invaded by farmers or others for decades or centuries), and transitioned to the field of culture. It concerns the affirmation of identity traits; resumption of practices of the Elders, rescue of native languages and ancestral practices and techniques of ceramics, body painting, songs etc. The "repossession of culture" can be seen as a highly valuable indigenous contribution to non-indigenous formal schooling.
Tales Bedeschi Faria
Brazil
I have been working with the Xakriabá and Pataxó peoples since my doctoral research in Arts. As a teacher of IFMG (Federal Institute of Minas Gerais), in Santa Luzia, MG, Southeastern Brazil, I have been inspired by the work of Xakriabá and Pataxó teachers and artists (Nei Xakriabá and Arissana Pataxó). I was very interested in the processes of "repossession of culture" and have tried to bring some aspects to my classes. I call it "planting indigenous processes in the school soil" (and in the non-indigenous student´s culture soil).
---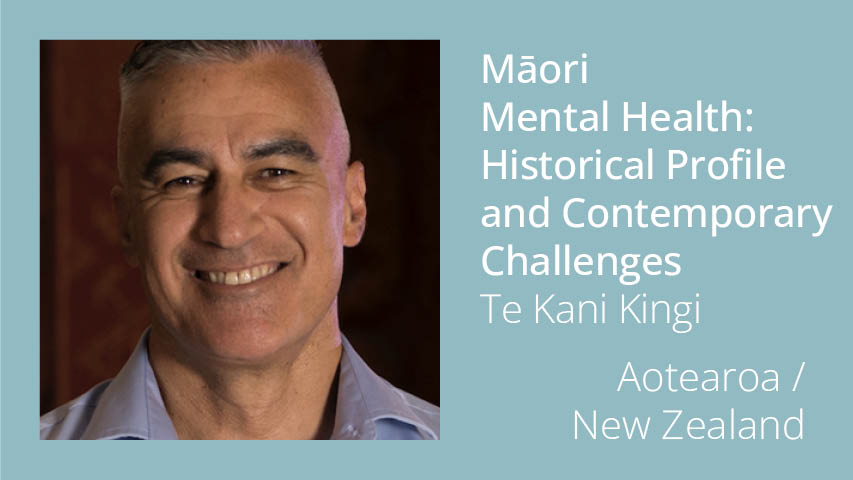 Māori Mental Health: Historical Profile and Contemporary Challenges
Te Kani Kingi
Aotearoa / New Zealand
Professor Te Kani Kingi is Executive Director of Research and Innovation at Te Whare Wananga o Awanuiarangi. Prior to this, he was an Associate Professor at Massey University in Wellington and concurrently held three roles as Director Māori (within the Office of the Associate Vice-Chancellor) Director of the Research Centre for Māori Health and Development (within the College of Health) and Director of Academy for Māori Research and Scholarship. Te Kani has tribal affiliations to Ngāti Pūkeko, Ngāti Awa, and Ngai Tai.
---